How Will AR and VR Change the Future?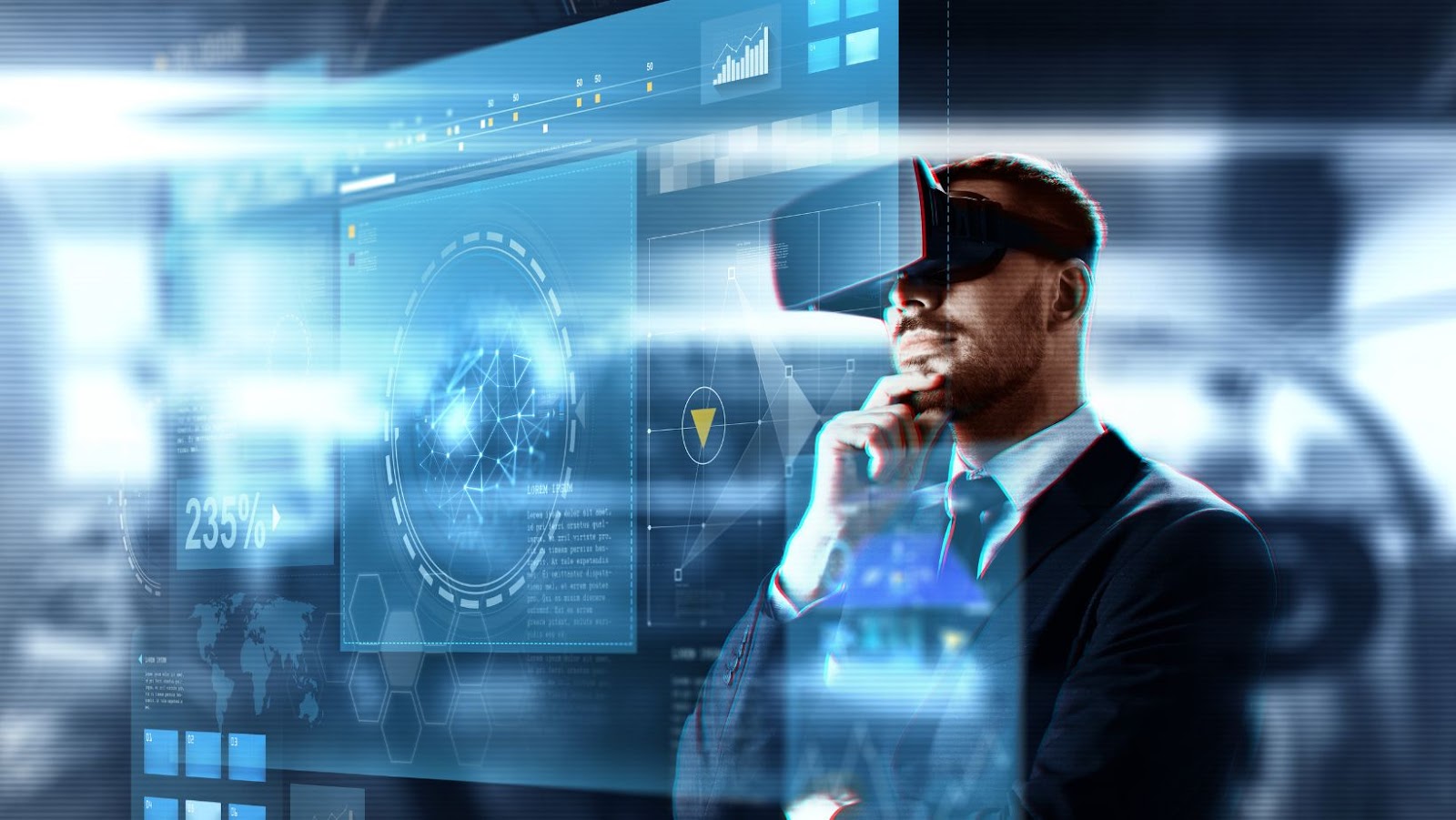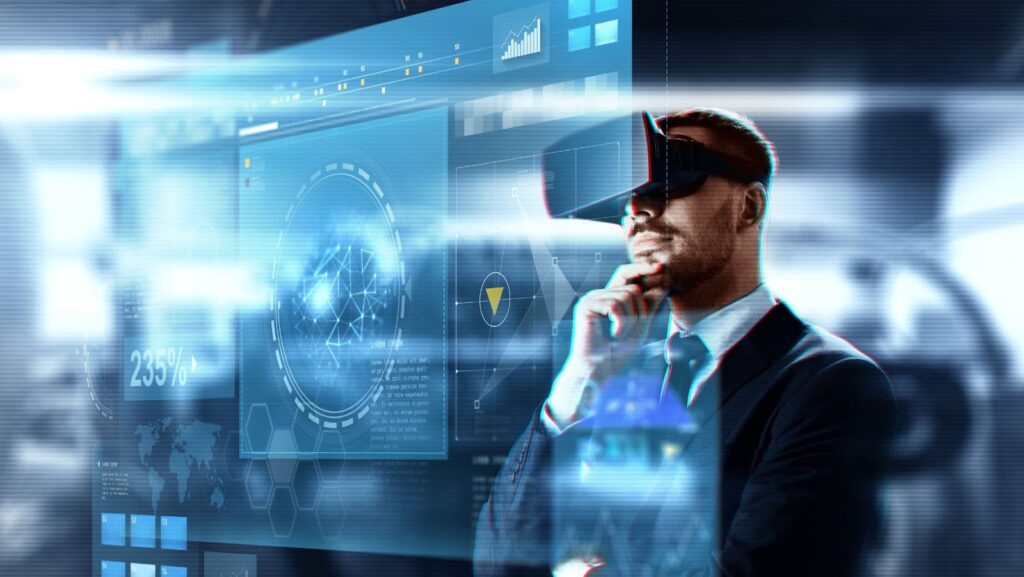 In the past few years, augmented reality (AR) and virtual reality (VR) technologies have made remarkable strides in transforming entertainment and providing groundbreaking experiences. They are set to disrupt several industries and create new business opportunities. These emerging realities will innovate businesses, markets, and lifestyles making them more immersive than ever. Despite the current pandemic, there is a growing interest in AR/VR technology due to its potential to revolutionise healthcare, education, retail strategies, communication technologies, travel & hospitality services – the list goes on.
This shift into the next level of access to information requires businesses of all sizes to consider how they plan on using it to remain competitive and capitalise on the innovation technology will bring. Although there is much more needed for these emerging technologies to move beyond their infancy stage specifically in terms of user experience design and development cost, it would be interesting to see what possibilities can be achieved as these advances become mainstream. In this article we discuss how AR/VR is expected to challenge current industry norms and provide potential applications for future developments.
What is Augmented Reality (AR)?
Augmented Reality (AR) is a technology that overlays digital information on top of the user's real-world environment. AR technology has been around for many years, but it has only recently become more widely available to the public. In recent years, major tech players like Mark Zuckerberg have seen the potential for AR to become embedded in virtual reality platforms such as the Oculus Quest.
This article will explore what AR is and how it will shape the future.
Definition
Augmented reality (AR) is a type of interactive, reality-based display environment that takes the capabilities of computer generated display, sound, text and effects to enhance the user's real-world experience. Unlike virtual reality, which creates a artificial environment, augmented reality uses the existing environment and overlays new information on top of it. The technology functions by augmenting the real world with computer-generated perceptual information such as sound, video, graphics or GPS data.
AR is a technology that lies between virtual reality (VR), which creates an entirely artificial digital environment for users to interact with, and the physical world. AR allows users to remain in the physical world while still being immersed in an enhanced digital experience through interactive visual overlays on what they can already see.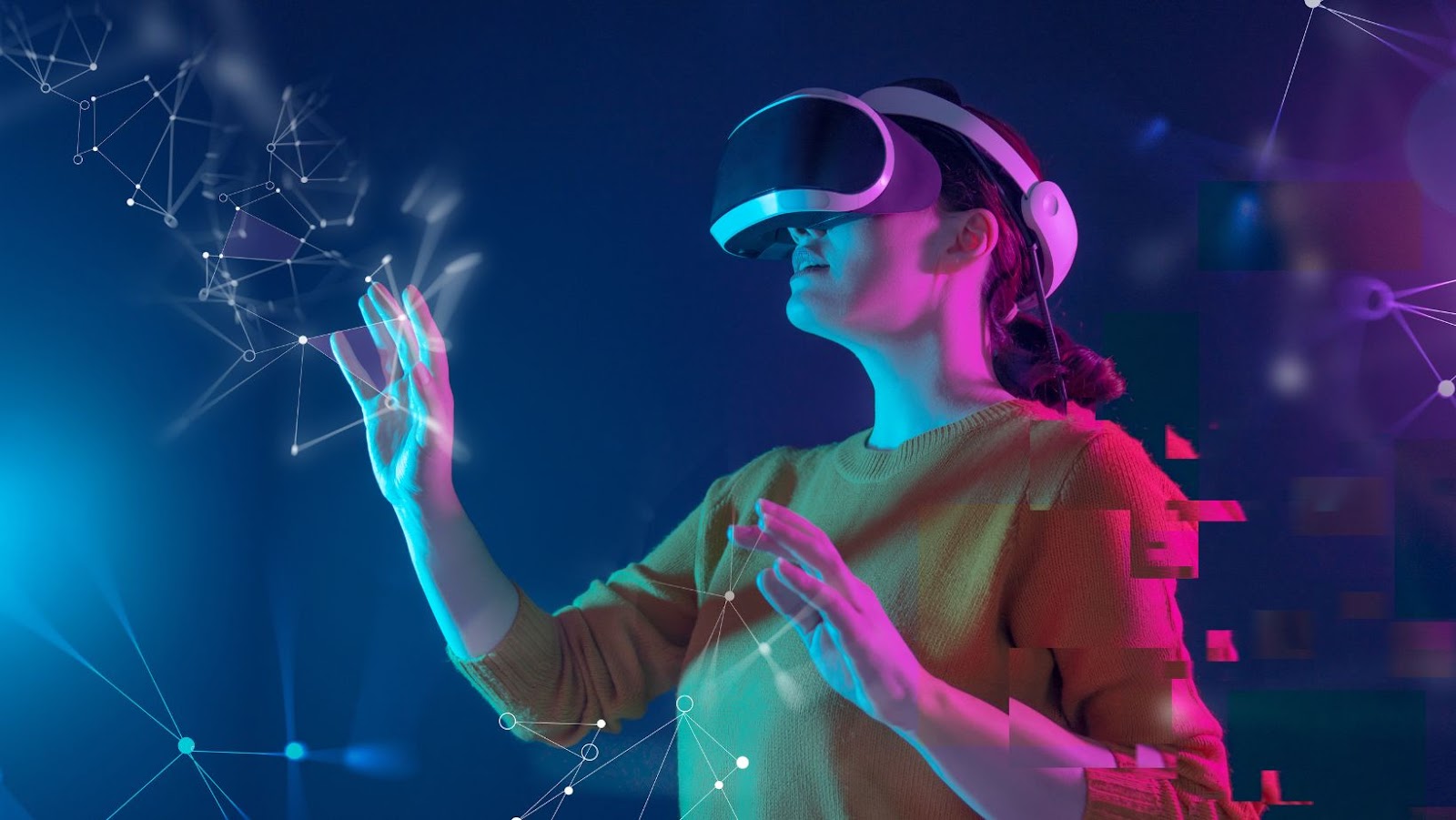 Various kinds of augmented reality systems exist today with different capabilities for creating AR content for various applications including:
Entertainment and gaming
Location-based services
Business intelligence
Navigation
3D modelling
Education
Interior design
Healthcare simulation and training exercises.
Examples of AR
Augmented Reality (AR) is a technology that overlays digital content and information onto the physical world. It uses computer vision, sensor technology and other recognition algorithms to detect objects or locations in the user's environment. AR then superimposes digital content (such as images, text, and 3D models) related to the surroundings into the user's field of view, giving them an enhanced perception of their environment.
Examples of AR have become increasingly commonplace in our everyday lives. Popular smartphone games such as Niantic's Pokémon Go generate maps and buildings on players' devices based on their GPS location, creating a layer of "digitally augmented hand-held video game maps" that appear to exist in real physical space. Other everyday applications of AR include:
Making product packaging more interactive through Augmented Reality codes.
Providing customers with product demonstration tutorials through virtual tutorials.
Both technologies allow users to interact with digital content by pointing their device at objects in the real world. In addition, wireless glasses and headsets are also available to provide AR experiences on demand.
The potential for Augmented Reality is massive – it could completely transform how we interact with data, allowing us to experience information differently than ever in ways that can be more efficient or entertaining than traditional methods. Moreover, as technological advances continue to drive down costs and set higher standards for quality, it could even replace traditional interfaces such as television screens or PC monitors entirely – revolutionising how we communicate with each other for many years to come!
What is Virtual Reality (VR)?
Virtual reality (VR) is a technology that allows users to enter an entirely virtual environment using a headset and controllers. VR has been rapidly advancing with new hardware and software solutions being released, such as the Oculus Quest, which Mark Zuckerberg and his team developed.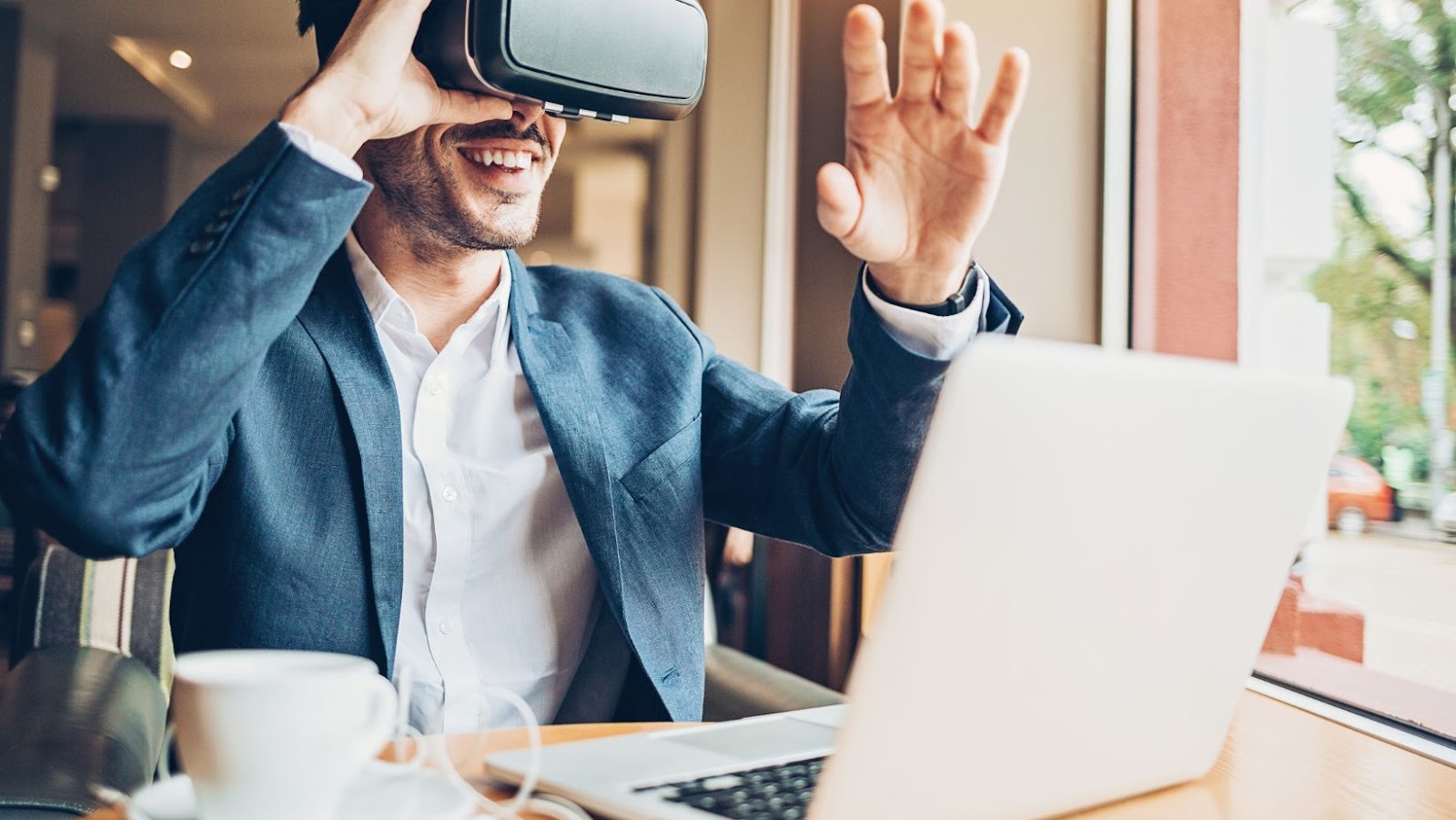 The technology allows us to explore and experience new and exciting worlds while offering innovative solutions to real-world problems. In this article, we'll explore what VR is, its potential applications, and why Mark Zuckerberg sees the future of augmented reality (AR) inside virtual reality like the Oculus Quest.
Definition
Virtual Reality (VR) uses computer technology to create a simulated environment. Instead of viewing a screen in front of them, users are immersed and able to interact with 3D worlds. By simulating as many senses as possible, such as vision, hearing, touch, even smell, the computer is transformed into a gatekeeper to this artificial world. The only limits to near-real VR experiences are the availability of content and affordable hardware.
VR can simulate real life situations in ways that can be highly accurate in terms of replicating the environment involved – sights and sounds providing incredibly realistic experiences that can almost reinvent reality. In Virtual Reality, two things exist: content and hardware – user's must have both to experience virtual reality fully. Content usually takes form in generated 3D objects or environments. At the same time, the VR hardware consists mainly of a headset device with motion tracking technology that either tracks your every movement or holds you stationary as you move from frame to frame within a virtual space.
Ultimately, we are talking about augmenting our day-to-day experiences with our digital creations – giving us unprecedented control over how we interact virtually with the world around us. Combining developments in artificial intelligence (AI), haptic feedback technology, big data analytics and other fields allows for an entirely new level of gaming and entertainment experiences impossible on traditional platforms but also offers opportunities for improved training methods for professionals – potentially saving billions on training costs across sectors such as healthcare and aviation industries.
Examples of VR
Virtual reality (VR) is a computer-generated simulation of an environment, allowing users to interact with a virtual world that appears and feels similar to the real world. In recent years, this technology has been used to create immersive gaming experiences and educational opportunities. Here are just a few examples of ways virtual reality can be used.
Gaming: Virtual reality is becoming more popular in the video game industry, with gaming companies developing games specifically designed for VR headsets. These games tend to be more immersive than traditional console games and players can often interact with other people in the virtual world.
Education: VR headsets also provide new ways for educators to engage students by creating interactive lessons in 3D environments. Students can explore different cultures, take virtual field trips, or study anatomy in three dimensions without ever having to leave their classrooms.
Shopping: Shopping online has become much easier thanks to virtual reality technology. Companies such as Amazon now allow customers to virtually "try on" items before buying them, or even get an inside look at products or services before deciding whether they want to make a purchase.
Medical Training: Medical students are also benefiting from advances in VR technology, as it allows them to practise in simulated environments that closely resemble real-life conditions. This makes it easier for them to develop clinical skills which will ultimately help save lives when they start practising medicine.
How AR and VR Are Changing the Future
As technology advances and the future of augmented reality (AR) and virtual reality (VR) become clearer, Mark Zuckerberg sees the potential for these technologies to go far beyond gaming.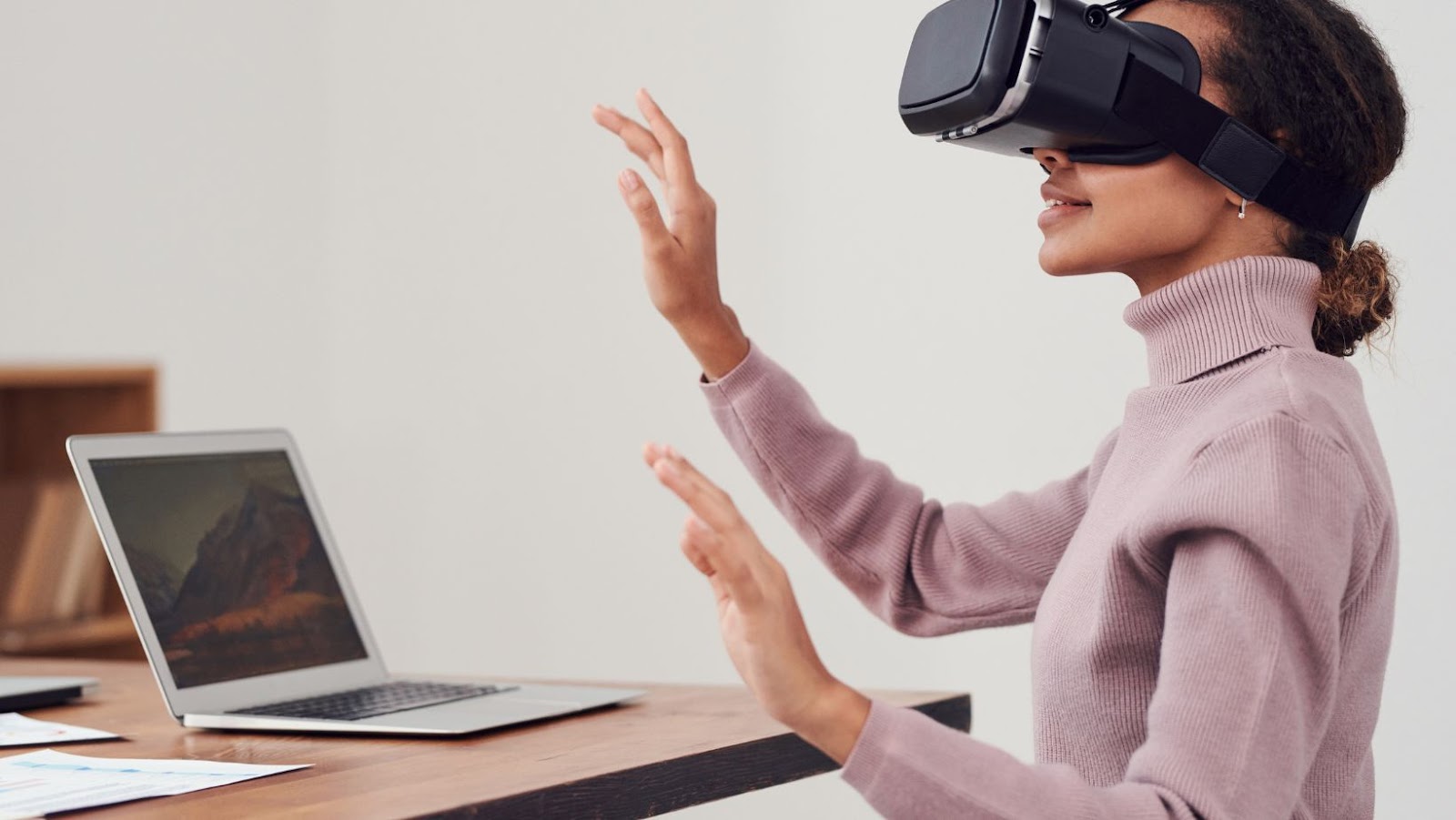 Use of AR inside VR like Oculus Quest, would be the future of AR and VR, enabling immersive and interactive experiences, from collaborative design & development or exploration to entertainment and educational purposes.
In this article, let's dive into how AR and VR are already changing the future and what to expect in the coming years:
Benefits of AR and VR
Augmented reality (AR) and virtual reality (VR) can profoundly affect how we experience the world. AR can change our understanding and view of reality by layering digital data onto the physical environment. Likewise, VR allows us to immerse ourselves in a completely different environment – from realistic historical settings to virtual, transformative interactive worlds – without ever having to leave our homes or offices.
Exploring these new immersive technologies brings many exciting benefits for individuals and businesses alike. For example, consumers now have greater access to interactive experiences that allow meaningful engagement with products and services, such as virtual tours of retail stores or personalised product demonstrations. Businesses are also discovering the advantages of using AR/VR technology to create more immersive training scenarios and marketing experiences and enhance workplace collaboration by allowing remote workers to come together in a 3D space.
For individuals, AR/VR technology introduces exciting opportunities for education, entertainment and social interactions. Furthermore, augmented reality apps can provide unprecedented accessibility for people with disabilities or impairments who may need assistance when going about their daily lives. Additionally, VR allows us to explore fascinating worlds that would otherwise be difficult or impossible to experience without travelling great distances or taking expensive trips or vacations; from breathtaking underwater worlds complete with marine life, to stargazing galaxies far away from home. Thus users can journey through time and place, creating memories that last a lifetime!
Potential Applications of AR and VR
Augmented reality (AR) and virtual reality (VR) are transforming how we interact with the world. For example, AR and VR can be used in classrooms and training sessions, to create immersive gaming experiences, to bring remote events into our homes, and so much more. As technology advances, we expect innovative use cases for these platforms to emerge.
There is great potential in specialised applications of augmented reality and virtual reality technology. For example, sports professionals might use simulated contexts to train athletes or develop strategies; medical researchers could study how the human body reacts to certain types of physical activity; architecture companies could use 3D simulations of buildings they want to develop in the future; virtual showrooms could guide buyers through products without needing real space – the list is endless!
At home, AR/VR headset applications are providing opportunities for at-home gaming experiences, digital art shows and all sorts of immersive content that people never thought possible in past years. This helps fill a space when you can't do anything because of confinement or other similar situations.
AR/VR devices also have the potential to revolutionise rehabilitation programs for patients recovering from serious injuries, as well as classroom learning for students attending school remotely due to global health concerns like COVID-19. Virtual classrooms create an environment similar to an in-person classroom where teachers can personally engage with their students. In contrast, students process materials more effectively than traditional online learning modules.
As technological advancements make AR and VR capabilities more attainable and accessible across industries, many organisations will naturally explore these new opportunities within their sector or field – with potential profitability benefits. Indeed, AR/VR technology will continue expanding across industries around the globe as its true potential is further explored by innovators everywhere!
Mark Zuckerberg Sees The Future of AR Inside VR Like Oculus Quest
As one of the best-known innovators and CEOs in Silicon Valley, Mark Zuckerberg has a clear vision for how augmented reality (AR) and virtual reality (VR) will help change the future. He believes these two technologies will contribute to a more "connected world", as they both can streamline communication, entertainment, and content consumption.
MR is a technology within AR that allows digital devices to recognize physical objects in their environment. For example, it could be used in augmented gaming to overlay a video game on top of the physical world. In addition, MR could be used for navigation purposes, such as providing directions within cities or providing real-time information about local stores or restaurants when users point their camera at them.
VR is an immersive technology that creates virtual environments and allows users to interact with them. For example, VR lets people explore new places or travel back in time by recreating historic events. Furthermore, it can also be used in healthcare scenarios by allowing medical professionals to view 3D prints of organs with ease or even allowing doctors to conduct remote surgery with precise controls over the environment they are working in.
Overall, Mr Zuckerberg's vision of AR and VR points towards an increasingly interconnected world where physical locations no longer limit experiences but become windows into a much larger universe of potential experiences. By capitalising on these two technologies early on, businesses can enjoy growth benefits by offering services tailored for this new way of consumption based on AR/VR experiences.
tags = mark zuckerberg exclusive interview, oculus virtual reality company, Facebook's social media reach, interactive virtual world, quest vr facebook horizon vrsteincnet, interview quest vr vr horizon vrsteincnet, mark zuckerberg quest vr vr vrsteincnet, interview zuckerberg quest vr horizon vrsteincnet, interview zuckerberg quest vr facebook vrsteincnet, interview quest vr facebook horizon vrsteincnet, zuckerberg quest vr facebook horizon vrsteincnet, mark quest vr facebook horizon vrsteincnet, futuristic augmented reality headset, new AR headset
About The Author