These Homemade Baked Crackers are Perfect for Anytime of Day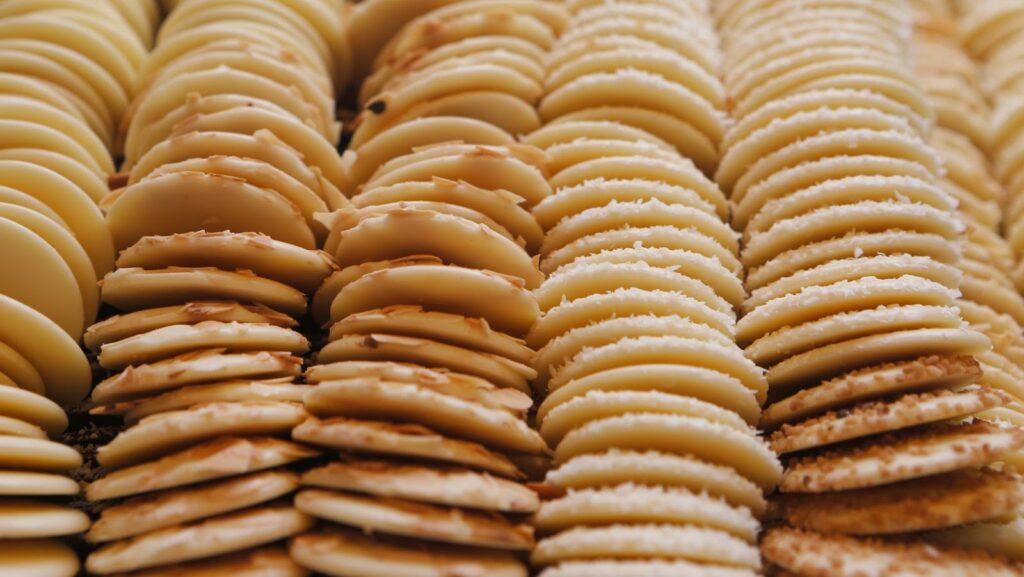 If you're looking for a healthy snack that's easy to make and delicious, look no further than these homemade baked crackers. Made with whole wheat flour and a few simple ingredients, they're perfect for anytime of day. Plus, they're way better for you than the store-bought kind!
Introduction
Light and crispy, these healthy crackers are a perfect snack for any time of day. Made with whole wheat flour and a variety of seeds, they are packed with nutrition and flavor. Enjoy them on their own or with your favorite dipping sauce.
The Benefits of Homemade Crackers
Homemade crackers are not only more delicious, but they are also healthier for you. By making them at home, you can control the ingredients that go into them and avoid all of the unhealthy additives found in store-bought crackers. Plus, they are really easy to make!
There are so many benefits to making your own crackers, including:
-You can control the ingredients: When you make crackers at home, you know exactly what goes into them. This means that you can avoid all of the unhealthy additives and preservatives found in store-bought brands.
-They are more delicious: Store-bought crackers can be bland and tasteless. Homemade crackers are much tastier since they are made with fresher and more flavorful ingredients.
-They are healthier for you: Because homemade crackers don't contain any unhealthy additives, they are better for your health. Plus, you can often use healthier ingredients when you make them at home (such as whole wheat flour instead of white flour).
-They are quick and easy to make: Many people think that making homemade crackers is time-consuming and difficult. However, this couldn't be further from the truth! With just a few simple ingredients and a little bit of time, you can easily make delicious homemade crackers.
Healthy crackers recipe

If you're looking for a delicious and healthy crackers recipe, look no further! These homemade baked crackers are perfect for anytime of day. Made with whole wheat flour, olive oil, and sea salt, they're a healthier alternative to store-bought crackers that are often loaded with unhealthy fats and chemicals. Plus, they're super easy to make and can be stored in an airtight container for up to 2 weeks. So what are you waiting for? Give them a try today!
Tips for Making the Perfect Crackers
Crackers are one of those snacks that are perfect for anytime of day. Whether you're needing a little something to tide you over until lunch or you're looking for a healthier alternative to chips for your next party, these homemade baked crackers are the perfect solution!
Making your own crackers is actually really easy, and you can tailor them to your own taste with whatever seasonings you like. Here are a few tips to help you make the perfect crackers:
– The dough should be firm, but not too sticky. If it's too sticky, add a little more flour; if it's too dry, add a little more water.
– Roll the dough as thinly as possible for crispier crackers. If you like them on the thicker side, that's fine too – just know that they won't be as crispy.
– Cut the crackers into whatever shape you like – squares, rectangles, triangles, circles… get creative!
– Be generous with the seasonings. You want these crackers to have lots of flavor, so don't be afraid to go heavy on the seasoning.
– Bake until golden brown and crisp. Depending on how thin you rolled the dough and how big your crackers are, this could be anywhere from 8-15 minutes. Just keep an eye on them so they don't burn.
These tips will help you make perfect crackers every time! And once you've mastered the basics, feel free to experiment with different seasonings and shapes – the possibilities are endless!
How to Enjoy Your Crackers
There are so many ways to enjoy these healthy crackers! Here are a few of our favorite ideas:
-Pair them with your favorite cheese for a delicious and nutritious snack.
-Use them as a base for canapés or hors d'oeuvres.
-Crush them up and use them as a healthy topping for soups or salads.
-Enjoy them on their own as a satisfying and healthy snack.
The Best Way to Store Crackers
It is essential to have the right tools to store your crackers so that they will be fresh and crisp when you are ready to eat them. The best way to store crackers is in an airtight container. Crackers can be stored in a plastic bag, but they will not stay as fresh as in a container.
Airtight containers come in many different sizes, so you can choose the one that fits your needs the best. If you are only storing a small amount of crackers, a plastic baggie or even a sandwich bag will work fine. If you are storing a large amount of crackers, you will need a bigger container, such as a Tupperware or Rubbermaid type container.
Whatever size container you use, make sure that it is completely sealed before you put it in the pantry or cupboard. Do not forget to label your container with the date so that you know how long the crackers have been stored. Homemade crackers will last for two to three weeks when stored properly.
FAQs about Crackers
How long do crackers last?
Properly stored, a package of store-bought crackers will usually stay fresh for about 4-6 months. If you make your own crackers, they will last for 1-2 weeks.
How should I store crackers?
Store crackers in a cool, dry place. If you plan on keeping them for more than a couple of weeks, place them in an airtight container or bag to keep them fresh.
Can I freeze crackers?
Yes! Just seal them in a freezer-safe bag or container and they will last for up to 6 months. When you're ready to eat, let them thaw at room temperature or pop them in the oven for a few minutes to freshen them up.
Do I need to refrigerate crackers?
No, but if you live in a humid climate, it's best to store them in the fridge to prevent mold.
Crackers Around the World
Crackers come in many shapes and sizes, but the one common denominator is that they are all handheld and usually eaten with some type of spread on top. Crackers date back to ancient times, and there is evidence that they were popular among the Egyptians and the Romans. The modern cracker can be traced back to England in the early 1800s, where a baker named John Peek created a sheet of dough that could be cut into small squares and baked.
Crackers come in many flavors and varieties, from simple saltines to more elaborate crackers that are flavored with cheese or herbs. Crackers can be plain or they can be topped with seeds, nuts, or spices. There are even crackers that are made with chocolate or other sweet toppings.
No matter what region of the world you are from, chances are there is a type of cracker that originates from there. Here is a look at some of the most popular types of crackers from around the world:
Saltines: These square crackers are known for their salty flavor and their ability to soak up soup broth. They originated in England but are now most commonly found in North America.
Graham crackers: These rectangular crackers were invented in 1829 by Sylvester Graham as part of his Graham diet, which was a forerunner to today's health food movement. Graham believed that these crackers, which are made with whole wheat flour, would promote good health. Today, graham crackers are most commonly found in North America as well.
Water biscuits: These thin and crispy biscuits originated in England and were originally known as ship's biscuits because they were eaten by sailors on long voyages. Water biscuits are still popular in England today and can also be found in other parts of Europe and North America.
Ryvita: These crispbreads originate from Sweden and are made with whole wheat rye flour. Ryvita comes in many different flavors including sesame seed, onion, and cheese.
Knäckebröd: These Swedish crispbreads are made with rye flour and have a very hard texture. Knäckebröd is often eaten with cheese or other toppings as a light meal or snack.
Wasa: These Finnish crispbreads come in many different varieties including ones that are flavored with cumin or Guinness beer! Wasa crispbreads have a very dense texture and must be soaked in water before they can be eaten.
Cracker History
Crackers are a type of unleavened bread that is usually dry and crisp. Crackers are made in different shapes and sizes, and they can be either sweet or savory.
The word "cracker" is derived from the Middle English word "cracchen" which means "to nibble." Crackers have been around for centuries and were originally created as a way to preserve bread. Crackers were first mass-produced in the United States in the early 1800s.
Today, crackers come in a wide variety of shapes, sizes, and flavors. They can be made from different kinds of flour, including wheat, rye, and corn. Crackers can be enjoyed on their own or with dips, spreads, or cheese.