Sweet & Healthy Fruit Tart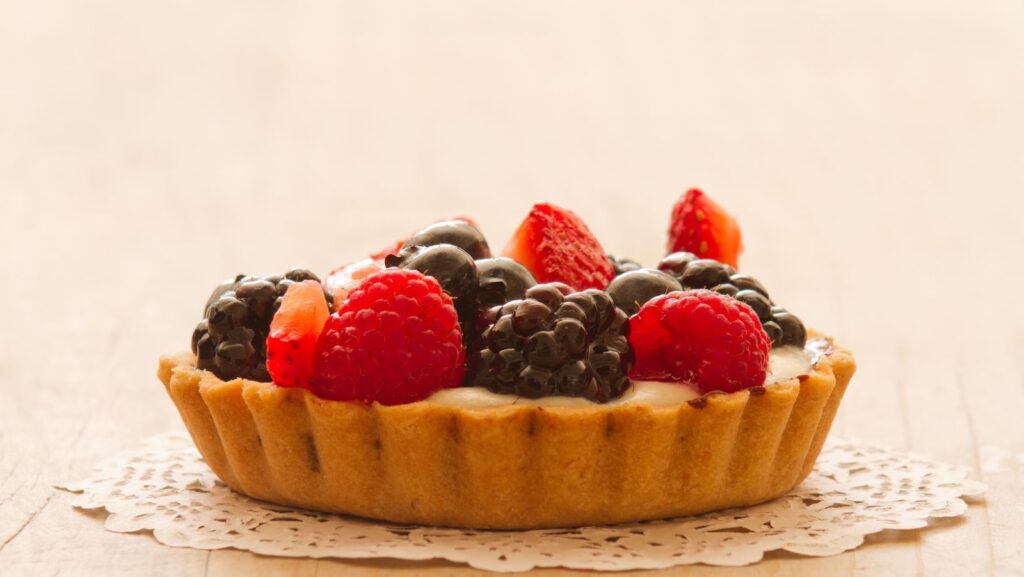 A fruit tart is a delicious and healthy way to enjoy fruit. This recipe is for a sweet and healthy fruit tart that is perfect for any occasion.
Introduction
This healthy fruit tart recipe is perfect for a summer dessert! Made with a sugar-free almond flour crust and a Greek yogurt filling, it's both delicious and nutritious. Top it with your favorite fresh berries for a beautiful and healthy treat.
Healthy fruit tart recipe
This healthy fruit tart recipe makes a perfect summer dessert! It's made with a wholesome almond flour crust and filled with a mixture of fresh berries and Greek yogurt. You can also use other fruits, like peaches, cherries or apricots, to mix things up.
The Benefits of Eating Fruit
Fruit is an important part of a healthy diet, and there are many reasons why you should eat fruit every day.
For one, fruit is a great source of vitamins and minerals that your body needs to function properly. Vitamins A and C, for example, are important for vision and immunity, while potassium is essential for maintaining healthy blood pressure.
In addition to being packed with nutrients, fruit is also a good source of fiber. Fiber helps to keep you regular and can also help to lower cholesterol levels. And because fiber is filling, eating fruit can help you control your weight.
So be sure to include plenty of fruit in your diet!
The Best Fruits for a Healthy Diet
When it comes to eating healthy, fruit is one of the best things you can add to your diet. Not only is it packed with vitamins and minerals, but it's also a great source of fiber.
However, not all fruits are created equal. Some are higher in sugar than others, and some contain more nutrients than others. So, which fruits should you be including in your diet?
Here are some of the best fruits for a healthy diet:
-Apples: Apples are a good source of fiber, Vitamins C and B6, and potassium. They can help regulate blood sugar levels and are linked to a lower risk of certain types of cancer.
-Berries: All berries – including strawberries, raspberries, blueberries, and blackberries – are packed with antioxidants and phytochemicals. These nutrients can help protect against chronic diseases like heart disease and cancer.
-Citrus fruits: Citrus fruits – such as oranges, lemons, and grapefruit – are rich in Vitamin C. They also contain flavonoids, which are antioxidants that can help boost the immune system.
-Pears: Pears are a good source of fiber and Vitamin C. They're also low in calories, making them a great choice if you're trying to lose weight.
-Stone fruits: Stone fruits – such as apricots, peaches, and plums – are a good source of vitamins A and C. They also contain potassium and fiber.
How to Make a Healthy Fruit Tart
A fruit tart is a dessert that typically consists of a pastry crust or shell filled with a sweetened cream or custard and topped with fresh fruits. A fruit tart can be made with any type of fruit, but some of the most popular include strawberries, raspberries, blueberries, and blackberries. The healthiest tarts are those that are made with fresh fruits and have a lower sugar content. This recipe for a sweet and healthy fruit tart uses a combination of fresh berries, an all-natural sweetener, and low-fat yogurt to create a delicious and nutritious dessert!
Ingredients:
1 puff pastry sheet
1 egg
1 tablespoon sugar
1/2 teaspoon ground cinnamon
1 cup mixed fresh berries
1/4 cup all-natural honey
1/2 cup low-fat plain yogurt
Instructions:
1. Preheat the oven to 375 degrees Fahrenheit.
2. On a lightly floured surface, roll the puff pastry sheet into a 12-inch square. Trim even with the edges of the pan. Prick the dough all over with a fork. Bake for 10 minutes.
3. In a small bowl, whisk together the egg, sugar, and cinnamon. Brush the mixture over the crust. Arrange the berries on top of the crust. Drizzle with honey.
Tips for Making a Healthy Fruit Tart
A fruit tart is a classic dessert that can be made healthy with a few simple tips. To start, use a whole wheat pastry crust or an almond flour crust for a nutrient-dense base. Then, load up the tart with fresh fruits and avoid using any processed fruit fillings. Finally, top the tart with a light glaze made from honey or fruit juice for natural sweetness. Enjoy your healthy fruit tart recipe guilt-free!
The Bottom Line on Healthy Fruit Tarts
A healthy fruit tart should be made with a crust that is whole grain, not full of refined flour and sugar. The filling should be sweetened with fruit, not sugar syrup or honey. And, the fruit topping should be fresh, not canned in sugary syrup.
FAQs About Healthy Fruit Tarts
Are fruit tarts good for you?
Fruit tarts can be a healthy dessert option, as long as they are made with nutrient-rich ingredients. To make a healthy fruit tart, start with a whole wheat or almond flour crust and fill it with fresh fruit and yogurt or ricotta cheese.
What is the best fruit to use in a tart?
The best fruits for tart are those that are high in antioxidants and fiber but low in sugar. Fruits like raspberries, blueberries, blackberries, and cherries fit this bill. You can also use tropical fruits like pineapple or mango.
How do you keep fruit tarts from getting soggy?
To prevent your fruit tart from getting soggy, start by prepping your fruit. Cut it into small pieces and toss it with a bit of sugar and cornstarch. This will help to create a barrier between the fresh fruit and the crust so that the juices don't seep through. Once your fruit is ready, fill your tart shell and bake it until the crust is golden brown.
More Healthy Fruit Tart Recipes
If you're looking for more healthy fruit tart recipes, here are a few to try:
1. Strawberry & Blueberry Tart with a Whole Wheat Crust: This tart uses a whole wheat crust and is filled with fresh strawberries and blueberries.
2. Raspberry Tart with a Hazelnut Crust: This tart has a hazelnut crust that's filled with fresh raspberries.
3. Peach Tart with an Almond Crust: This tart has an almond crust and is filled with fresh peaches.
4. Cherry Tart with a Chocolate Crust: This tart has a chocolate crust and is filled with fresh cherries.
Conclusion
After trying out this healthy fruit tart recipe, we can say that it is definitely a winner! The sweetness of the dates and honey balance well with the natural tartness of the raspberries and grapefruit, making for a delightful and refreshing treat. Moreover, the use of whole wheat flour and Greek yogurt give this dessert a nutritional edge over traditional fruit tarts. So, if you are looking for a healthier alternative to your usual dessert recipes, be sure to give this one a try!